More establishment dirty tricks try to stop Ron Paul 2012 momentum.
Aaron Dykes
Infowars.com
August 21, 2011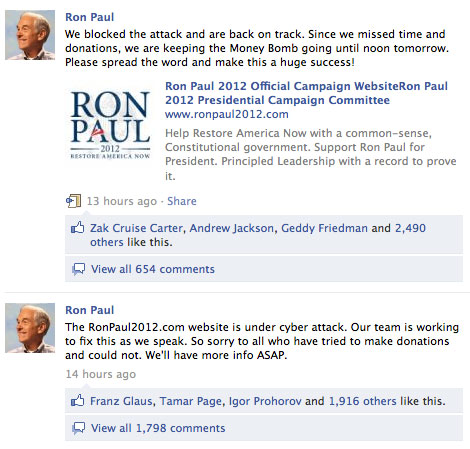 2012 contender Ron Paul drew more than $1.7 million dollars (UPDATED AT 2 PM CST and COUNTING) during the Aug. 20 money bomb commemorating his 76th birthday, despite what the campaign says was a cyber attack against the official website. Warning about yet another dirty trick against the campaign, only a week out from the media blackout on Ron Paul's close-second Iowa straw poll finish, was posted on his official Facebook page:
"The RonPaul2012.com website is under cyber attack. Our team is working to fix this as we speak. So sorry to all who have tried to make donations and could not. We'll have more info ASAP."
The campaign went on the announce an extension of the money bomb until noon Sunday on August 21, at which time donation tallies were still rolling in.
"We blocked the attack and are back on track. Since we missed time and donations, we are keeping the Money Bomb going until noon tomorrow. Please spread the word and make this a huge success!"
Who would benefit from such a hack of Ron Paul's website during a major fundraising effort? The answer is so obvious that the mainstream media, itself complicit in omitting the candidate from heavy coverage, had to admit last week that the establishment political parties and lapdog corporate media were ignoring Paul because they don't want him to win (or gain enough momentum to do so).
Ron Paul campaign manager John Tate sent out this via email regarding the hack attack:
"We thought it was bad when the media tried to ignore us to keep our message under wraps. But it just got worse. Earlier this evening, a cyberattack was launched on our website – shutting us down and robbing us of the last few hours of our money bomb. Boy, the establishment is more desperate than I thought. They don't even want our message to get out ON OUR OWN WEBSITE now!
A Pew Research study confirmed indeed that Ron Paul had received less coverage than any other major candidates, especially in proportion to his consistently significant poll numbers. Instead, the establishment is in panic because the Texas Congressman's support is pushing him towards a tipping point that the system is struggling to contain.
During the 2008 GOP primaries, the Ron Paul Revolution created the money bomb, and proceeded to set record after record for single-day fund raising, the most money from individual and small donors, the most money from active duty military personnel and more. Now with the 2012 campaign underway, that trend continues, with Ron Paul again leading military donations, even against Commander-in-Chief Barack Obama, who now has the U.S. entangled in five wars and even more widening conflicts.
This article was posted: Sunday, August 21, 2011 at 5:34 am
---
---
Print this page.
---
---
Infowars.com Videos:
Comment on this article