Kurt Nimmo
Prison Planet.com
Friday, July 1, 2011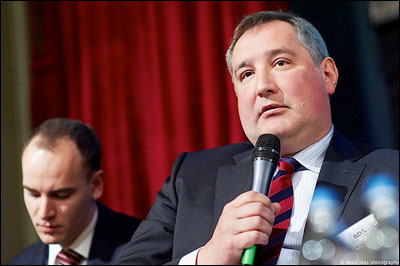 Dmitry Rogozin, the Russian envoy to NATO. Photo: Security and Defence Agenda.
Dmitry Rogozin told RIA Novosti on Friday that NATO is probably preparing a ground invasion to overthrow the Gaddafi regime in Libya. Rogozin is Russia's NATO envoy.
"I think that now we are witnessing the preparation stage of a ground operation which NATO, or at least some of its members… are ready to begin," Rogozin said.
In April, The Guardian reported that the EU had drawn up a "concept of operations" for the deployment of military forces in Libya.
"The plan is being spearheaded by the EU's anointed foreign and security policy chief Catherine Ashton, a woman who has never been democratically elected to public office in her life yet is now about to commit EU troops to a new war that some have warned could last anything up to 30 years," Paul Joseph Watson wrote on April 18.
During the Bilderberg meeting this year, former Secretary of State and Rockefeller minion Henry Kissinger said the U.S. needs to launch an invasion of Libya, according to investigative journalist Jim Tucker. The operation should last a year, Kissinger said.
In June, Infowars.com received information from multiple sources indicated an attack was planned for October. The troops will be deployed from Fort Hood, according to the source, and U.S. Special Forces will be sent this month. "Initial numbers are estimated at 12,000 active forces and another 15,000 in support, totaling nearly 30,000 troops," Aaron Dykes wrote.
This article was posted: Friday, July 1, 2011 at 8:32 am
---
---
Print this page.
---
---
Infowars.com Videos:
Comment on this article