Kurt Nimmo
Prison Planet.com
August 11, 2013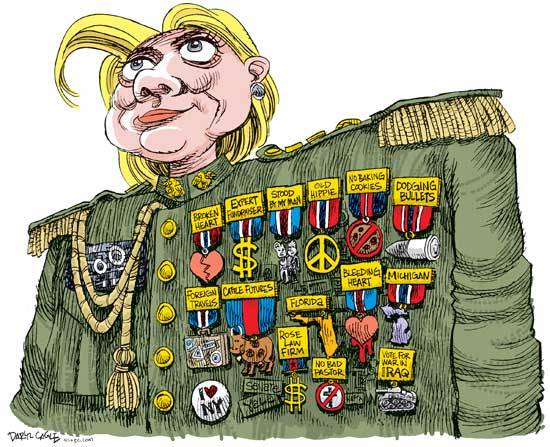 Dan Balz, writing for the former crown jewel of the CIA's Operation Mockingbird, the Washington Post – a onetime media giant now a midget worth the fire sale price of a paltry $250 million – has come out swinging for Hillary in 2016.
"At this point, Hillary Rodham Clinton has been awarded the Democratic nomination virtually by default and declared the clear favorite to win the general election against her as yet unknown Republican opponent," writes Balz a full three years plus before the election.
Presagious? Hardly. It's not difficult to predict the establishment's choices, especially when the competition out on the Republican fringe will consist of Rand Paul and Ted Cruz.
Between now and the Iowa caucuses the Democrats will do a lot of Hillary Clinton wheedling and peddling along with a copious amount of Paul and Cruz bashing – expect a hearty playing of the race card – and the establishment media will do its part to gussy up Hillary as Madame President.
Maureen Dowd, the liberal polemicist for another newspaper drawing near the chopping block, the New York Times, writes that we can't hear summer cicadas or ourselves "over the roar of the Clinton machine — and the buzzing back to life of old Clinton enemies" already preparing to do battle early this time around.
Dowd reminds us that Team Hillary ran a "shadow campaign" after she was appointed secretary of state under Barry. "Obama granted his former rival special privileges and allowed her to move Hillaryland, with all her loyal image-buffers and political aides, into the State Department intact," Dowd writes.
2016 will be a watershed. The Republican establishment will attempt to counter Hillary with Condoleezza Rice, Jeb Bush, Marco Rubio or Paul Ryan, but all of these will play out as sure losers against Hillary.
The only saving grace will be a Paul-Cruz ticket, but Republicans will certainly move to sabotage this, even if it results in a wholesale disaffection of the tea party wing previously cleaved of its libertarian trappings but remaining mistrustful of GOP stalwarts. If a Paul-Cruz ticket is undermined, we can expect a third party to become a reality in 2020.
In the meantime, Democrats will work overtime to sell Hillary Clinton as the only palatable choice.
It should be noted that the Democrat party was long ago sanitized of its antiwar contingent and is fully vested in the establishment's agenda of total police state surveillance, forever war and the long distance drone offensive against imaginary enemies, and the full-tilt expansion of corporate-bankster financial shakedown across the board, from the third world to Europe and back home in the United States.
Perpetually blindsided and bushwhacked, Democrats will champion the old war horse Hillary the same way they championed Obama, the CIA-groomed newcomer out of nowhere, although possibly with a bit less religious fervor (may we be spared fainting acolytes).
This article was posted: Sunday, August 11, 2013 at 3:51 pm
---
---
Print this page.
---
---
Infowars.com Videos: