Kurt Nimmo
Prison Planet.com
December 26, 2013
The snail mail monopoly is raising rates again.
"As feared, the U.S. Postal Service passed 4.3 percent exigent rate increase on Christmas Eve, delivering a lump of coal to magazines, newspapers and direct mailers," AdWeek reports. "The Postal Regulatory Commission voted for the increase on top of the annual postal rate that is capped by the consumer price index, making it the largest postal hike in more than a decade."
Unfortunately, Article I, section 8, Clause 7 of the Constitution gives a now corrupt and dissolute Congress the authority to enforce this expensive and largely unneeded boondoggle on the American people.
In the past, the Post Office maintained rates despite its monopoly. See the images above: from 1933 to 1956, the price of a first class letter was a meager three cents. Also see the chart below. The postal rate increase has basically followed the rate of inflation. Call it the Federal Reserve Effect.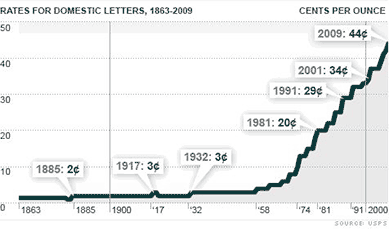 Thankfully, technology has reduced the need for a land and air-based terrestrial dead tree mail system. Most people communicate via email, text and social networks.
The constitutionally grounded post office monopoly may ensure this oversized beast continues to exist and Congress may even deem in necessary to give the postal dinosaur a bailout, but that will not change its unpopularity and the fact it is headed for the dustbin of history.
A d v e r t i s e m e n t
In the meantime, we have to remain vigilant to ongoing efforts by the state to confiscate money for the postal monopoly. For instance, earlier this year, a socialist city council critter in the socialist mecca of Berkeley, California, proposed a "bit tax" on internet traffic to pay for the government postal monopoly.
The Post Office has come up with other schemes, including canceling Saturday deliveries, rolling back delivery in certain areas, stuffing more junk mail in your box, putting ads on the side of mail trucks, and even introducing a clothing line.
Nothing will work, of course. Snail mail is history.
This article was posted: Thursday, December 26, 2013 at 12:38 pm
---
---
Print this page.
---
---
Infowars.com Videos: