Kurt Nimmo
Prison Planet.com
November 15, 2011
Think Progress, the Soros funded "progressive" media operation, has once again inadvertently made the case that there is very little difference between so-called liberals and conservatives when it comes to killing Muslims and spreading around misery mixed with depleted uranium.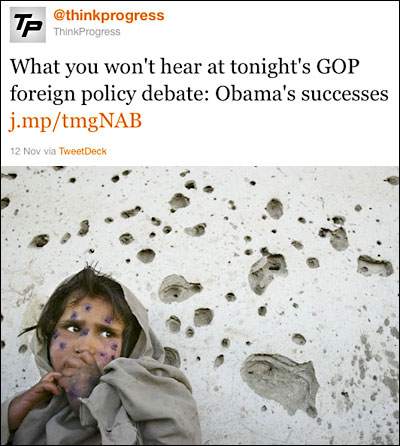 Both Democrats and Republicans are responsible for the slaughter of innocents in Afghanistan.
Prior to the Republican dog and pony show masquerading as a debate last week, the website posted a litany of myths and crime scene stats attributed to the unpopular teleprompter reader Barry Obama.
Obama's "accomplishments" include the supposed assassination of Osama bin Laden, the CIA asset that died in late 2001, and the "humanitarian" mass slaughter in Libya that installed al-Qaeda and promises to reduce the country to the status of post-war Iraq.
Think Progress stands squarely behind the illegal effort to take down Iran just like the establishment Republicans who "debated" (read scripts) in South Carolina last weekend. TP takes Mitt Romney to task for claiming Obama is not willing to bomb Iranian school children and remind us that Obama has not taken military action "off the table."
TP is really outrageous when it comes to Egypt. The John Podesta gang claims Obama helped facilitate Egypt's "transition to democracy" which was in fact a transition from the U.S.-supported and financed dictator Hosni Mubarak to the decidedly undemocratic military "council" that is now suppressing demonstrations.
TP does its best to continue the al-Qaeda myth by lauding Obama's supposed murder of Anwar al-Awlaki, the former Pentagon dinner guest. Dems invariably express scripted reluctance over such blatant violations of international law, but enthusiastically engage in them regardless. "While there are legitimate questions surrounding the use of force in this case, the killing of al Awlaki and bin Laden undoubtedly weakens Al Qaeda's ability to operate in the Middle East and plan and execute attacks," TP writes.
A d v e r t i s e m e n t
Even TP's friends at the CFR admit that the al-Qaeda myth is vastly overblown. The CFR wants to know why al-Qaeda's imaginary sleeper cells in America have not "been sniping at people in shopping centers, collapsing tunnels, poisoning the food supply, cutting electrical lines, derailing trains, blowing up oil pipelines, causing massive traffic jams, or exploiting the countless other vulnerabilities that, according to security experts, could so easily be exploited?"
On Sunday, Glenn Greenwald wrote for Salon that
many Democrats not only passively acquiesce to Obama's continuation of core Bush/Cheney Terrorism policies, but enthusiastically cheer it as proof that they, too, can be Tough and Strong (manly virtues demonstrated by how many human beings their leader kills from afar). So here you have Think Progress heaping praise on Obama for seizing what is literally the most radical power a President can seize: the power to target — in total secrecy and with no checks or due process — their fellow citizens for execution: specifically, assassination-by-CIA. (emphasis in original.)
Of course, this should be expected – Think Progress is after all the brainchild of The Center for American Progress and its leader, John Podesta, the one-time chief of staff for Bill Clinton. CAP and Podesta played a major role in getting Obama elected.
CAP is at the forefront of support for Obama's murder campaign in Afghanistan. It issued a report titled Sustainable Security in Afghanistan (written by CFR insider Lawrence Korb). The report was released in 2009 during a forum entitled A New Way Forward in Afghanistan that featured American Enterprise Institute scholar Frederick W. Kagan. AEI is a neocon organization responsible advocating the invasion of Iraq (current number of dead souls: 1.5 million).
The TP "progressive" Democrats are the flip-side of the neocon Republicans. It is amusing to read TP's diatribes against Republicans when they basically share the same ideology when it comes to killing Muslims.
"That D.C.'s leading Democratic Party think tank celebrates so many" of Obama's brutal acts, Greenwald continues, "and particularly thinks exactly like Newt Gingrich and Michele Bachmann on one of the most controversial civil liberties issues of our generation — the power of the President to secretly target even American citizens for assassination — speaks volumes about the true legacy of the Obama presidency in these areas."
More specifically, it speak volumes about the obvious fact that a single-headed and one-minded plutocracy runs the federal government. It is determined to wage war against invented enemies regardless of who warms a seat in the White House.
This article was posted: Tuesday, November 15, 2011 at 3:01 pm
---
---
Print this page.
---
---
Infowars.com Videos:
Comment on this article