Prison Planet.com
August 25, 2013
Following the recent arrest of peaceful overpass demonstrators in St. Charles by the Missouri Highway Patrol, Infowars was inspired to travel to the city and document the latest "Impeach Obama" protest.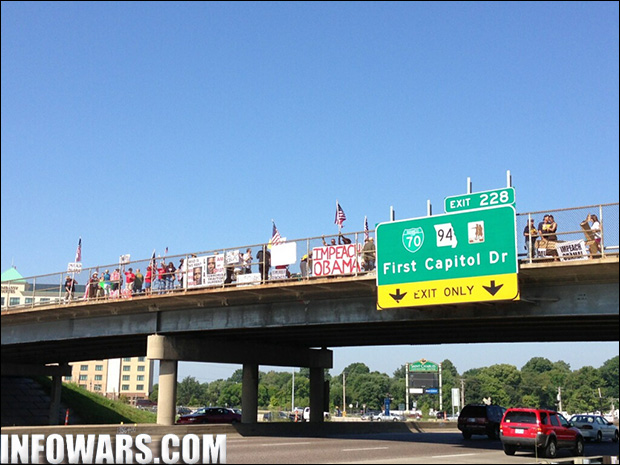 Yesterday, Infowars was on location in St. Charles to report on one of the several overpass protest rallies organized across the country.
The overpass protests aim to bring awareness of Obama's tyrannical regime tactics – such as his support for unwarranted blanket NSA surveillance on American citizens, the wiretapping and persecution of journalists and whistleblowers, and his engagement in numerous illegal wars – to passing motorists.
By morning, more than 50 people had crowded an overpass marking the intersection of Highway 70 and Fairgrounds Road near the St. Charles Convention Center.
African-American conservative musician DeeRock also attended the protest and stated the rallies are "Not a black or white issue," but rather "a red, white and blue issue."
At least one sheriff from another county, a member of the Constitution-abiding group Oath Keepers, was also in attendance to show his solidarity for the men who were recently arrested by the Missouri Highway Patrol.
Last week, Dr. Duane Weed and Marc Messmer were tackled and arrested by police for refusing to leave a public area, even though the men did nothing wrong. Infowars is pleased to report that police abstained from harassing protesters this time around – a likely result of the negative publicity forced with the aid of Infowars.
Last Thursday, Alex invited Dr. Weed and Mr. Messmer to talk about their experience of being treated like they live in a communist dictatorship.
Earlier this month, Infowars also reported on a protest that took place down the street from the Alex Jones Show studios in Austin, Texas.
According to Infowars reporter Lee Ann McAdoo, one accident did happen under the overpass where protesters assembled, but it resulted from a couch falling off a truck bed. She says an average of 8 out of 10 cars passing by honked their horns.
Visit the Nation Liberty Foundation's event page or overpasses.org to find protests in your area.
This article was posted: Sunday, August 25, 2013 at 6:00 pm
Tags: activism
---
---
Print this page.
---
---
Infowars.com Videos:
Comment on this article