Julie Wilson
Infowars.com
July 9, 2013

Respected artist and business owner Chris Hobe has had his artwork yanked from an art gallery showing in Atlanta, Georgia, after the property manager accused his work of being "violent in nature."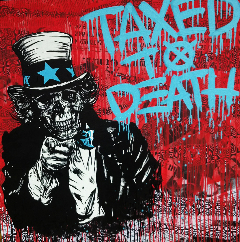 Hobe's company, Artistic Revolt, creates and produces original art and clothing that represents the "history of our great nation." Hobe says he "utilizes the cycles of history to create art that makes people think a little deeper than just a piece of art."
"My art is intended to make people think outside the box and not just go with the mainstream; to inspire people to be pioneers like the people before us and not just be content or complacent."
Chris Hobe has long displayed his work in the area, but just recently joined forces with a large property corporation called Atlantic Station.
Atlantic Station offers shopping, dining, movies in the park and festivals featuring art galleries. According to the park's website, they are the "National Model for Smart Growth and Sustainable Development." Their motto is "live, work and play in the same community."
Hobe previously had a successful showing at the new venue and received positive feedback from both the customers and the property management.
Per the lease agreement Artistic Revolt had with Atlantic Station, he set up shop preparing for his monthly showing at the park.
When the General Manager (GM) of Atlantic Station walked by Hobe's display booth, he began questioning Hobe's work and the name of his company. The GM asked him if his work was "political" and "which political party he was associated with."
Hobe told the GM that he wasn't associated with any political party and he didn't consider his art to be political in nature. The GM complimented the artwork and drove off on his golf cart.
The next thing he knew, Hobe was being told by the leasing agents that the GM had ordered his booth to be shut down and did not provide a reason.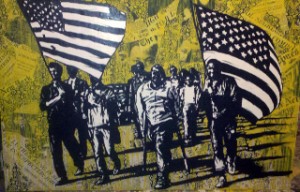 Hobe and his team were told that they needed to vacate the premises, and if they did not do so immediately they would be escorted off the property.
Creative Loafing, a local newspaper, snapped photographs while the artist removed his work and asked why he was leaving. Hobe told them he was being shut down and was ordered to vacate the premises.
The story didn't end there.
Soon after the incident, Hobe received a phone call from Creative Loafing. The newspaper informed him that there was a mass email circulating to all the stores and businesses around Atlantic Station badmouthing Chris Hobe and his company.
The email stated that Chris Hobe and his company Artistic Revolt was shutdown due to the "violent and political nature of their art and that they were not allowed anywhere on the property for purposes of a gallery or shop."
Hobe says he's shown his work at an outdoor mall in the same area for seven years and never had any issues. He has even received many accolades in his community for his work.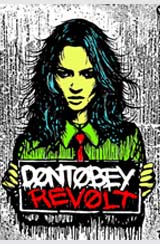 Art Nouveau Magazine, "the proven voice of the contemporary independent artist," showcased Hobe's work in 2011 and said the "artist gives 70's and 80's pin up and commercial art a fresh take."
Last year Hobe's artwork was featured by Mindzai Creative at a monthly art gathering and social affair in West Midtown, Atlanta.
In just one festival, Hobe has gone from popular to scrutinized. In addition to having his first amendment rights violated, Hobe has been blacklisted and badmouthed by a company that brags of being the National Model for Smart Growth.
This article was posted: Tuesday, July 9, 2013 at 12:57 pm
Tags: constitution, police state
---
---
Print this page.
---
---
Infowars.com Videos:
Comment on this article