Unprecedented explosion of resistance in the wake of independent news.
Kit Daniels
Infowars.com
September 6, 2013

In yet another example of the emerging power of alternative media, Americans are openly rejecting Sen. Lindsey Graham's "us vs. them" rhetoric that if the U.S. doesn't attack Syria, terrorists could nuke South Carolina.

In an article by CBS Charlotte, Graham said that if the U.S. doesn't proceed with military action against the Russian-backed Assad regime, Iran will not take "America's resolve" to stop their nuclear weapons program seriously.
As a result, Graham said, terrorists could easily detonate a nuclear device in Charleston Harbor.
This comes directly in the wake of our report that Dyess Air Force base in Texas is secretly transporting nuclear warheads to South Carolina in a black ops move with no paper trail.
Many of the article's commenters have openly called out Graham for "fear mongering" and linked his statements directly to our report, with some even suggesting that a false flag could be in the making: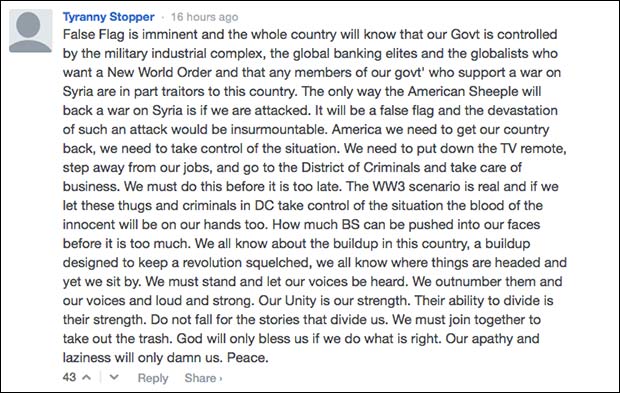 These comments showcase the devastating effect that the alternative media, such as the Drudge Report, Natural News, and World Net Daily, is having on the government's ability to control the news in order to influence the viewpoints of Americans.
No longer is the public lining up front and center behind the "official stories" promoted by politicians which trend away from the truth.
Instead, they are starting to think for themselves and, as Benjamin Franklin so eloquently put it centuries ago, "it is the first responsibility of every citizen to question authority."
Earlier this month, Politico reported that Barbara Bush, the daughter of former President George W. Bush, is "politically unaffiliated."
Several of the article's commenters didn't buy it:


This unprecedented mass exposure of political spin and habitual lying isn't just limited to on-line comments.
As reported recently by Mikael Thalen, former House Representative Ron Paul called the recent Syrian chemical attack a "false flag."
His son, Senator Rand Paul (R-Ky.), has even stated that "we may well be allies with al-Qaeda if we go" into Syria.
Senator Ted Cruz (R-Tx.) said that the U.S. military shouldn't go to Syria to become "al-Qaeda's air force."
Warmongering Sen. John McCain (R-Az.), who was recently caught playing electronic poker during a Senate war hearing on Syria, was even confronted by angry Americans opposed to an attack on the country during a town hall meeting.
A call to Graham's office revealed that his staff is currently overloaded with inquiries about the nuclear weapons transfer to South Carolina.
Politicians such as Graham will continue to face massive resistance to their rhetoric as alternative media continues to explode in popularity.
This article was posted: Friday, September 6, 2013 at 4:43 pm
Tags: activism, domestic news, war
---
---
Print this page.
---
---
Infowars.com Videos: