PrisonPlanet.com
December 8, 2012
Thanks to all who joined Infowars.com for the World's First Drone Mob drone protest Saturday at Zilker Park in Austin, Texas.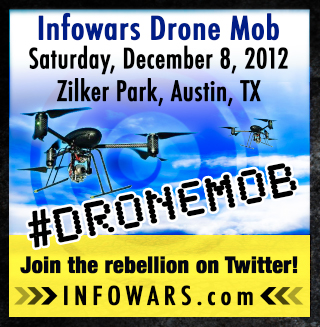 The Federal Aviation Administration (FAA) has announced there may be 30,000 drones over American skies by 2020, and now Congress is actually pushing the FAA to hand drone oversight to the Department of Homeland Security.
This continuous shift of power away from the people via drones sparked the Infowars Drone Mob event as a way to spotlight this egregious government overstep.
Alex is also announcing a $1000.00 prize for the best drone video filmed at the event.
Participants will have two weeks to upload their videos to YouTube for consideration.
Send contest videos to: [email protected].
For more news on drones:
You remember last time when Infowars showed a drone being shot out of the sky in the Brothers in Arms series? That didn't happen this time. The Infowars Drone Mob was just people flying small drones for freedom.
This article was posted: Saturday, December 8, 2012 at 10:06 pm
---
---
Print this page.
---
---
Infowars.com Videos:
Comment on this article