Kurt Nimmo
Infowars.com
May 12, 2010
An Infowars.com reader has sent an email with an attached scan of a "State of Texas Census Report" distributed to students.
The 7th grader who received the form was promised an "A" if he completed it. In addition, students were subjected to "a pep talk on how it is their duty as American Citizens to complete" the census form and submit to the school and presumably Texas authorities.
"Sound pretty nosy, doesn't it?" a paragraph at the bottom of the form states. "But a census is very important. The information is used for all kinds of purposes, including setting budgets, zoning land, determining how many schools to build, and much more. The census helps Texas leaders plan for the future needs of its citizens. Hey, that's you!"
The U.S. Census — to say nothing of school districts in Texas or anywhere else in the country — does not have constitutional authority to ask the sort of questions included in the form below. The Constitution calls for a simple enumeration every ten years in order to apportion the number of seats in the House of Representatives. Period.
"Unless a census taker can show me a constitutional requirement, the only information I plan to give are the number and names of the people in my household," Walter E. Williams wrote in February. Williams quotes Thomas Jefferson: "Whensoever the General Government (Washington) assumes undelegated powers, its acts are unauthoritative, void, and of no force."
The same applies to Texas or any other state that insists it has a right to be nosy, as the form below admits.
A d v e r t i s e m e n t
It is especially pernicious when the government attempts to brainwash children into the belief that the government has the authority to demand personal and private information from citizens.
Not only do parents need to tell the state to stop inculcating their children, they also need to if possible pull their children out of public schools that have become centers of indoctrination in worship of the state.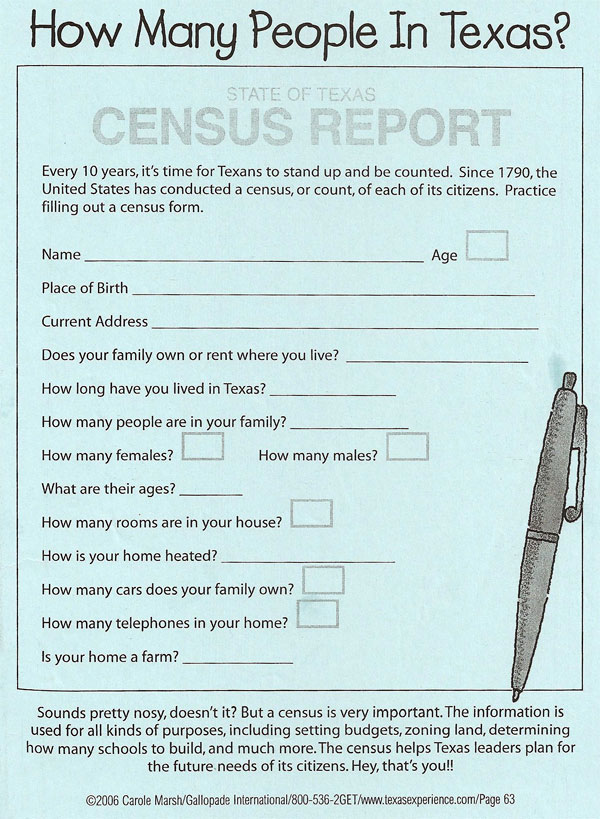 This article was posted: Wednesday, May 12, 2010 at 4:01 am
---
---
Print this page.
---
---
Infowars.com Videos:
Comment on this article