Weiner stands up despite criticism
Adan Salazar
Prison Planet.com
July 31, 2013
As the global financial collapse accelerates and the march towards involvement in yet another war grows louder, Americans incredibly find themselves bombarded by the distraction of yet another policy maker's lewd and lascivious misconduct.
Former U.S. Rep. Anthony Weiner (D-NY) has indefatigably stood up in the face of endless jests cracked in his name.
From late night talk show mischief to print newspaper and online headline horseplay, the New York mayoral candidate's most recent thrust back into politics is seemingly unaffected by the revival of yet another sexting scandal, which was also the reason for his premature resignation from Congress in June 2011.
As an overwhelming number of penis puns have been erected in his honor, we thought we'd begin (and wrap up) our coverage with a long, hard look at some of the better Weiner roasts out there.
20. Late night Carlos Danger mashup
One group that was unmistakably pleased with the ample material Weiner's unorthodox path to the mayoral seat provided were the writers for late night comedians. Here Jay Leno, Craig Ferguson, David Letterman and Conan O'Brien riff on the fantastic Twitter handle Weiner concocted, "Carlos Danger."
19. Spirit Airlines ad salutes Weiner
The low-cost American airliner turned heads this week with an ad announcing their "Summer of Weiner" sales promotion, which pokes fun at the former Congressman's online alter-ego.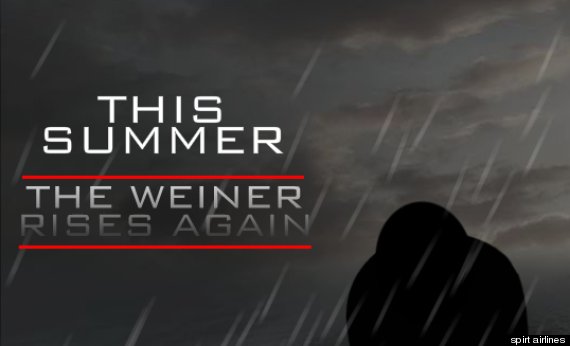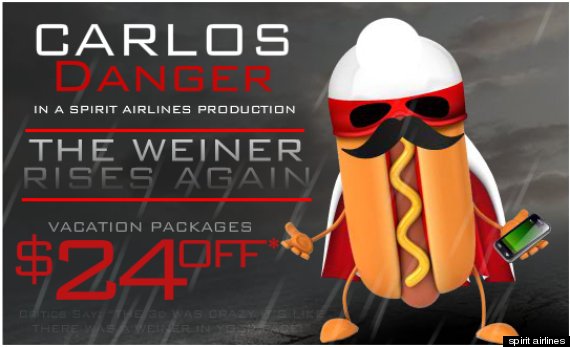 18. Conan flips the Weiner script
TBS's Team Coco didn't let us down when it came to formulating outstanding Weiner jokes. After it was revealed in 2011 that Weiner traded steamy messages with a nightclub dancer / former porn actress, well…
"It turns out that one of the women Congressman Anthony Weiner was communicating with was a porn star. When asked how it was possible to get involved with someone in such a sleazy business, the porn star said, 'I don't know.'"
17. Ferguson sticks up for porn stars
Late night CBS funnyman Craig Ferguson thought it was especially funny that one of Weiner's telephone mistresses didn't want to keep mum on the affair.
"Today the porn star in question – talking about Anthony Weiner – apparently he tried to get her to lie about the messages he sent. But she refused. Good! I'd hate to think a porn star would degrade herself by taking orders from a Congressman."
16. Ferguson sticks up for porn stars, part 2
"But I have to ask this: What kind of world are we living in when porn stars make Weiners go down?' It's reverse world!"
15. New Yorker Cover – Weiner sexts atop Empire State Building
Is that King Kong dominating the New York City skyline? No, it's just Anthony Weiner shooting his latest masterpiece. The New Yorker needed little motivation to create next week's cover, which features the 48-year-old former New York rep. doing what he does best… snapping a crotch shot.
14. Metro pokes Weiner
As the congressman resigned, NYC's Metro newspaper also couldn't resist getting in on the Weiner joke bandwagon.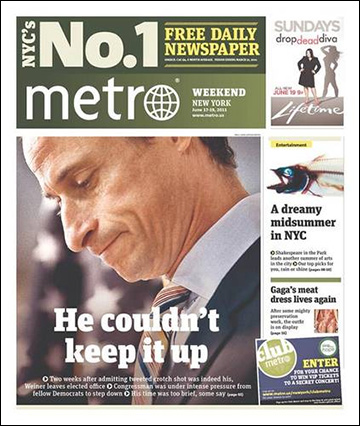 13. Jay Leno stands by Weiner
To be expected, NBC's seasoned late night talk show host Jay Leno afforded the embattled seven-term congressman no solace.
"Congressman Anthony Weiner has announced that he's not resigning in the wake of the scandal. One thing we know about Weiner is that he knows how to stand firm."
12. Conan's porn name for Weiner
Conan O'Brien earns two spots for pulling off the driest, but wittiest of the Weiner jokes.
"Congressman Weiner is in a lot of trouble since he tweeted those pictures. But good news for him, he just found out he'll be allowed to keep his porn name… Congressman Anthony Weiner."
11. Leno reveals Weiner's apology
Leno also somewhat got Weiner's wife, Huma Abedin, in on the action.
"Weiner is now desperately trying to make things better with his wife. You can tell he's sorry. Like today he sent her a picture of his penis with a little sad face on it."
10. Obama Beats It
The New York Post gave it to both Obama and Weiner when the president lent his two cents to the sext controversy.
Would Obama resign over the deaths of scores of innocent Mexicans in the wake of the Fast and Furious scandal? Would he resign if a U.S. Ambassador died in a preventable attack on a U.S. consulate? Would he resign if he casually murdered dozens of young children by drone strikes? Or how about when he trashed the Fourth Amendment with the NSA's surveillance of millions of Americans? Was his confiscation of the personal records of a slew of reporters, thus violating the First Amendment, enough for him to allude to resignation? No, no, no. But if Barry Soetoro's name was ever tainted by a sex scandal, you'd better believe he'd be out in a hurry.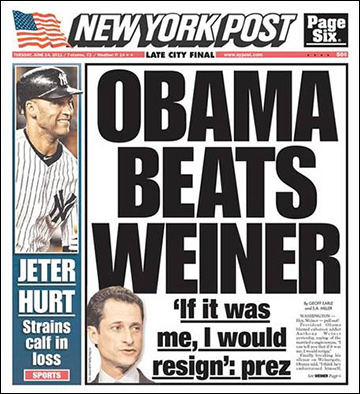 9. NY Daily News's Tip of the …
When news first broke of Weiner's sextcapades and numerous cell phone mistresses started coming out of the woodworks, we knew we'd only heard the first of his sext romps, but only the Big Apple's tabloid newspaper the New York Daily News could properly put it into words.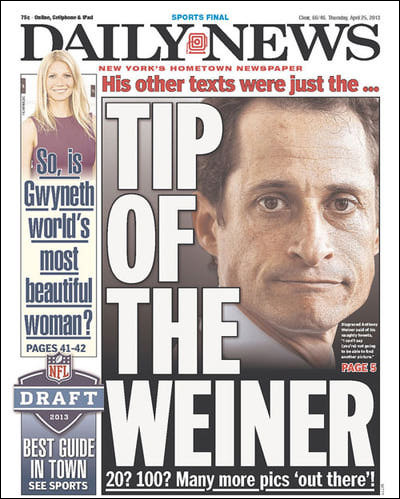 8. Fallon's phallic puns
Weiner's announcement to run for mayor provided all late night comedians a cesspool of great material, not the least of which was late night NBC host Jimmy Fallon whose SNL past has trained him to be able to physically portray the former rep.
7. Boehner bites Weiner
Even politicians couldn't shy away from comedic pokes at the former congressman. In 2011, U.S. House speaker John Boehner, who admits his own name is frequently the subject of misinterpretation, gave a speech at Ohio State University where he riffed on himself and the suspected sext addict.
6. Weiner on Boehner
Who better to crack Weiner jokes than the man of the hour himself? Along with proclaiming that the last original Weiner joke he heard was in fifth grade, he also lays in on House speaker John Boehner at the 2011 Congressional Correspondents' Dinner, asking, "Who is Boehner fooling? What am I? Anthony Wayner?"
Drudge Heads up the Top 5
Unsurprisingly, at the head of crafting brilliant penis puns were Matt Drudge and his DrudgeReport.com crew working feverishly to devise new and entertaining ways to slap Weiner. Drudge takes the last five slots for revealing Weiner as no one else has.
5. Weiner's comeback
Everyone thought they had seen the last of Weiner, but he proved us all wrong last April when he made a (fully clothed) reappearance. Drudge dutifully reported: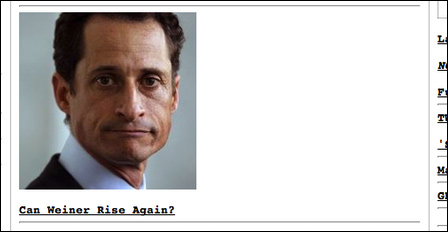 4. Weiner announces run for mayor
All of us were surprised back in May when the disgraced Congress critter decided to go for New York's mayoral seat, but few could report it as eloquently as Drudge.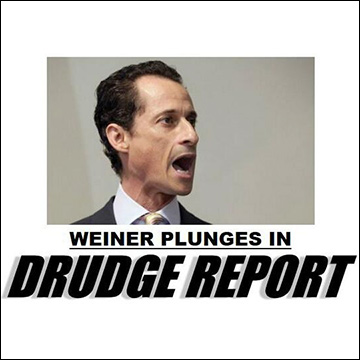 3. Weiner's poll drops
Paying homage to the late, great 90s sitcom Seinfeld, Drudge pulled yet another perfectly timed Weiner joke this week when it was announced that the former New York rep's approval rating dropped 10 points in his mayoral bid as a result of the recent revelations in his very public scandal.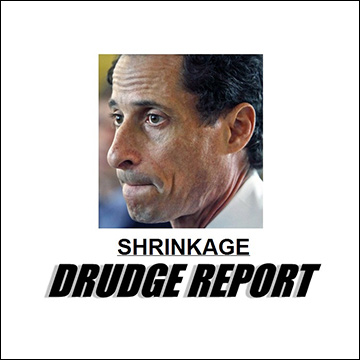 2. Women love Weiner?
Drudge has a unique way of putting polls in perspective. When a dating website recently found that 78 percent of young female clients approved of Weiner, Drudge didn't pull any punches.
1. Tailor Made for Media Coverage
It's no surprise Drudge earns the award for "ballsiest" Weiner joke. When he ran with the following headline in all caps, there's no doubt there was a unison of laughter nationwide.

Despite his reputation for sharing tawdry Tweets and salty texts, Anthony Weiner, at least at the time of writing, says he's not pulling out of the mayoral race. Let it never be said that the man couldn't take a beating.
This article was posted: Wednesday, July 31, 2013 at 11:17 am
Tags: domest, domestic news
---
---
Print this page.
---
---
Infowars.com Videos: