Aaron Dykes
Prison Planet.com
Wednesday, December 1, 2010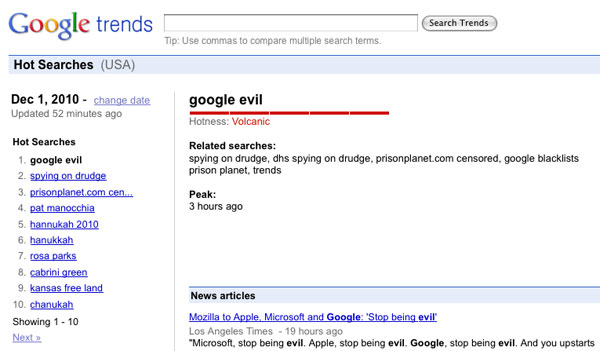 Thanks to our listeners and supporters, we have once again topped Google's Trends. Now, for the first time ever, three terms, "Google Evil," "Spying on Drudge" and "PrisonPlanet.com Censored," have simultaneously charted the influential hot trends list.
Here's why we initiated a buzz around those terms:
#1 "Google Evil" – This term, which reached #1 for today, Dec. 1, was initiated to draw attention to the fact that Google has repeatedly engaged in censorship and unfair listing practices– despite its corporate motto "Don't Be Evil." The Internet giant has become the target of an anti-trust suit in the EU for allegedly demoting links to a website who did not pay for higher listings as its competitor had done. Google has also been widely criticized for its privacy policy in many respects, including its invasive technique of photographing private areas for use in its mapping program.
#2 "Spying on Drudge" – Horrifying revelations emerged today via an FOIA request that show that the Department of Homeland Security (DHS) engaged in spying on Matt Drudge, of the DrudgeReport.com, and other media outlets (like those of Alex Jones) after they contributed to a nationwide revolt against the TSA. Further, a leaked TSA memo refers to these dissenters as "domestic extremists." Bob Barr, who has spurred an investigation into the TSA's standdown during the Thanksgiving Holiday to avoid "opt out" controversy, is behind the FOIA request.
#3 "PrisonPlanet.com Censored" – An extension of "Google's Evil" is the fact that it has de-listed PrisonPlanet.com and Infowars.com from Google News listings in the immediate wake of the full-on TSA revolt which the DrudgeReport.com and PrisonPlanet.com played a major role in pushing. Blocking our site from these listings is a discriminatory practice which prevents frequent news readers from stumbling upon Prison Planet articles while browsing. Ironically, it also prevents PrisonPlanet.com articles from being linked to #1 Google Search terms with which they are associated. Note: This is not the same as being blocked altogether from Google.com searches.
Thanks again for your support in driving these important issues into the mainstream.
Fresh food that lasts from eFoodsDirect (AD)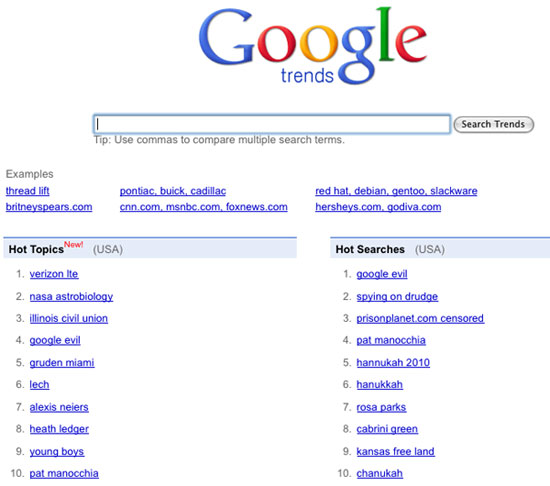 This article was posted: Wednesday, December 1, 2010 at 3:04 pm
---
---
Print this page.
---
---
Infowars.com Videos:
Comment on this article