Tyler Durden
March 29, 2011
The scientists at the Central Institute for Meteorology and Geodynamics (ZAMG) have released their most recent near-term forecast of Iodine-131 dispersion. The combination of local weather forecasting and emission prediction results in the following animated dispersion map. ZAMG's google-translated narrative: "Today there was a weak disturbance with light showers in northern areas of the impacted area, but no precipitation from Fukushima to Tokyo. Winds are from the northwest, rotating somewhat during the day on Southwest. The next morning a few weak showers are possible, but it will be mostly dry. Wind mostly from southern directions. The day after tomorrow a weather disutrbance is approaching that  brings in the impact of precipitation. The wind will turns to westerly. The dispersion calculations show that today a potential radiation cloud of the southeast Pacific is transported to the so away from Japan. Tomorrow by rotation of the wind on the Pacific Southwest further transport to be expected. Tomorrow, inland areas may also temporarily be affected." Look for readings in Ibaraki prefecture, and in Tokyo, to jump should this happen.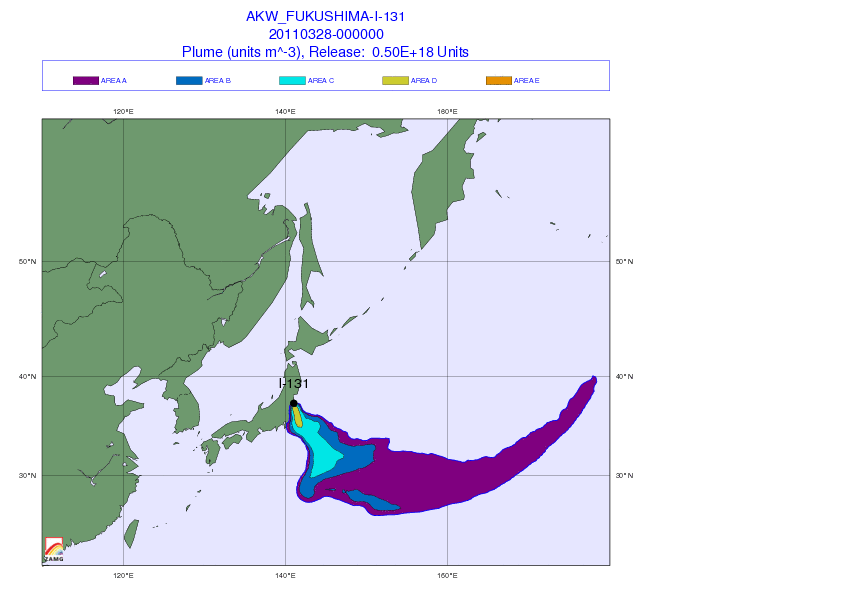 Stock up with Fresh Food that lasts with eFoodsDirect (AD)
This article was posted: Tuesday, March 29, 2011 at 4:33 am
---
---
Print this page.
---
---
Infowars.com Videos:
Comment on this article