Captured "attractive" females changing clothing and urinating
Adan Salazar
Prison Planet.com
August 23, 2013
The City of Puyallup, Washington is facing a lawsuit claiming members of its police department were spying on inmates picked up on DUI charges through hidden surveillance cameras set up in restrooms and jail cells where "apparently young, attractive women" were forced to change clothing, including underwear.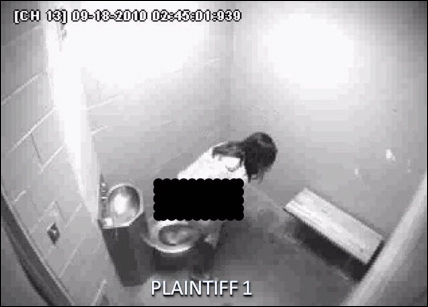 Seattle attorney James Egan filed the lawsuit Thursday, according to KIRO 7 news. "He said it appears attractive women were being video recorded more than others."
"I have defended thousands of DUI cases over years and I have never — I mean never — come across anything like this," Egan told the Seattle Times.
Egan has been collecting evidence against the Puyallup PD's unethical surveillance tactics over the past 2 and a half years after he began noticing "a pattern and practice for DUI detainees…where apparently young, attractive women were subject to observation relieving themselves in toilets, and/or were also directed to change all clothes, to include bras and panties, in monitored cells where hidden cameras recorded them doing so."
The complaint alleges that "Because the officers apparently want all identification photos to be in jail issued clothing," which is not a state requirement, "the officers tend to direct people to change into the jail-issue clothes for the photo, and then change back into street clothes for release."
According to the lawsuit, only one plaintiff, J.H., actually witnessed the small camera which immediately made her feel "extremely uncomfortable about having to take my shirt off." She says afterward, "One of the officers made the comment 'She's a squatter' referring to how I used the restroom while in the cell."
Another plaintiff, S.C., said that after she changed clothes, officers were talking to her in a more sexualized manner. "…after I got back into my clothes I remember them talking to me in a sexual manner something to the effect of: 'You have a nice body' and 'you don't look your age' and 'I love red heads.' …This is like a porn video they were watching." She said to her knowledge there were no signs warning that the holding cell or toilet room were being video recorded.
An additional plaintiff, identified as H.M., expressed she had been victimized as a child and that she experienced "first shock, then anger" after finding out "strangers" had secretly filmed her. "I have not been able to get this off of my mind. I'm horrified that someone other than my husband has seen me in this position. I have been avoiding restrooms in public places for fear someone might be watching me." She said the incident exacerbated her distrust of men.
Yet another victim, T.K., stated she felt disrespected, "degraded, and mortified as all of the victims. What they did was against the law and then they have the nerve to make jokes about it is not okay, they need to be held accountable for the emotional and psychological damages that were done."
Egan's complaint, dated August 2, 2013, alleges the Pullyap Police Department violated his clients' Fourth and Fourteen Amendment rights and "engaged in a pattern and practice of violations of Plaintiffs fundamental rights and dignities including bodily privacy.
Disturbingly, some of the videos showed full frontal nudity and even the women's buttocks and still others had footage redacted, although no explanation was provided as to why.
"It is believed that officers may have committed this offense for the purpose of obtaining arousal or personal gratification," Egan's suit claims.
KIRO 7 says it checked with detainment centers around the Seattle area and found that no other city or county jail used cameras in their toilets or cells.
The Puyallup City Attorney, Kevin Yamamoto, says Egan is "trolling" the city for sympathy and his clients for financial gain. "He regarded Egan's Public Disclosure Requests for the more than 60 videos as basically frivolous," reported KIRO. He stated at a news conference that the cameras are "a force enhancer" or an "extra set of eyes," allowing the jail to operate with fewer officers.
Pullyap Police Captain Scott Engle defended the practice saying it fell in line with "standard correctional procedures used in jails across the United States." At the news conference, he reportedly stated that the department committed "no wrongdoing whatsoever."
In total, 12 people – 11 women and one man – are represented in the lawsuit. According to Yamamoto, Egan had initially asked for settlement of $800,000 before making the images public, but the city refused. Egan now seeks general and special damages "in an amount to be proven at trial," and punitive damages "as available under the law."
This article was posted: Friday, August 23, 2013 at 12:14 pm
Tags: big brother, police state
---
---
Print this page.
---
---
Infowars.com Videos: