Alex Jones & Aaron Dykes
Prison Planet.com
Wednesday, October 13, 2010
Editor's Note: This video is a chronicle of everything we've done here in the Infowar. We ask that you help get it out to everyone you know and tell them to join us live this Thursday, October 14th for an historic 24-hour broadcast to generate support and get out the word as far as we can.
Alex Jones in particular, and patriot groups in general are under attack. The ADL, Southern Poverty Law Center, both major parties and the mainstream media have all singled out Constitutionalists and the grassroots public in attempt to quell the uprising of populist anger and hold onto the establishment's power. Make no mistake, we're under attack. The establishment is alerted to the work that Infowarriors everywhere have done. Now, to continue fighting back in full force, we need your help.
MSNBC, Nightline, CNN, Media Matters and others have all attacked Alex Jones for his supposedly-dangerous and extremist views, while a wider awakening is taking place. Alex's audience is growing rapidly as The People learn about how the system manipulates both parties, while saddling the nation with debt and working towards a world government and unified currency.
Alex Jones urges his supporters to face the challenges at hand, while recognizing the great strides made towards awakening the population to the real issues– on eugenics, 9/11, Wall Street banksters, bi-partisan corruption, the New World Order and beyond.
Most of all, Alex asks for financial support– to secure the expansion and reach of the Infowars operation– in the Thurs, October 14th Moneybomb. If you believe in the mission against the New World Order, if you've seen the effectiveness we've had in combating the system's propaganda and if you want us to reach a tipping point in public awareness on issues that matter, then help us reach our goal of $500,000.
We're counting on you all; if you can give assistance, please do all you can to take the Infowar to the next level. We need your generous donations. However, if you've been harshly effected by the economic downturn, or do not have a lot of money, then please do not open your wallet. Nevertheless, please DO tell everyone you know about the historic 24+ hour broadcast, only at Infowars.com and PrisonPlanet.tv Let your friends, family, co-workers, neighbors and total strangers know they can tune in FREE to the live video stream, audio feed, podcast and/or radio broadcast.
A d v e r t i s e m e n t
——————
Unlike the corporate media, the Infowars operation is not lavishly funded by mega-corporations owned by international bankers. Because of this, we are dependent on the generosity of supporters to fund our growing operation.
In addition to more feature length DVDs, we will launch a new social network, Planet Infowars. We will feature two new TV shows, a daily version for for Prisonplanet.tv subscribers, and a new show that will broadcast on satellite television.
Beginning at 11:00 am CST on Thursday, Alex will present for free streamed over the internet a large number of previously unreleased videos. Interviews with Paul Craig Roberts, Catherine Austin Fitts, Lord Christopher Monckton, Sherri Tenpenny, Jeffrey Smith, Rev. Clenard Childress, Alan Watt, and dozens of others will be aired. Streaming this new content will cost us tens of thousands of dollars over a 24 hour period. In addition, the marathon show will feature a number of live guests, including Max Keiser, Gerald Celente, Webster Tarpley, and Paul Craig Roberts.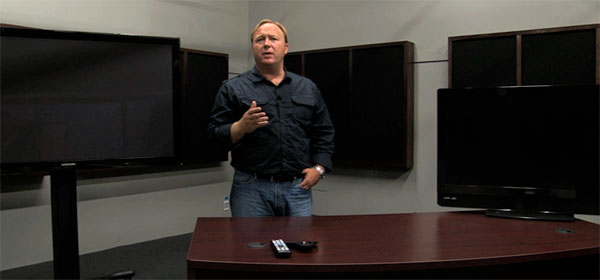 It promises to be a truly historical show, so please tune in to the free internet video stream that will be available on Alex's flagship websites, Infowars.com and Prison Planet.com. Please donate what you can afford. Or visit Alex's online stores where a wide variety of DVDs, books, and clothing are available for purchase.
The success of the infowar and our survival as a premium source for truth depends on you. Visit the Infowars Moneybomb page today.
As Alex has always said, the pen is mightier than the sword. This an Infowar and our words are engaging all of the enemy's plans, and scoring many victories. The research and information combined from our listeners, staff and guests accumulates as a mighty weapon against the New World Order system of lies. Our non-violent words stand against their oppression, dropping mega-ton truth bombs many times more powerful than their armies, police, thugs and bureaucrats. We're fighting to awaken the people of the world against the 'Tyranny over the minds of men' that Jefferson warned against so long ago.
This article was posted: Wednesday, October 13, 2010 at 12:36 pm
---
---
Print this page.
---
---
Infowars.com Videos:
Comment on this article