Kurt Nimmo
Prison Planet.com
April 27, 2011
The White House has released a long-form birth certificate, saying the document is "proof positive" that Obama was born in Hawaii.
White House Communications Director Dan Pfeiffer said today the decision was made to release the full document in response to increased attention on the issue, including a political stunt by Donald Trump, who claims he may challenge Obama in 2012 for the presidency.
Numerous researchers have questioned the place of Obama's birth, including author Jerome Corsi and attorney Phil Berg. Pfeiffer said "internet chatter" had moved into the national political debate and ended up being discussed regularly on the corporate media. Prior to Trump's challenge that he would produce his birth certificate, the corporate media assiduously ignored the issue.
Obama plans to discuss the release of the document Wednesday morning at the White House, according to Fox News.
The document lists Obama's birthplace as Honolulu, Hawaii, and his birth date as Aug. 4, 1961. The hospital listed is Kapiolani Maternity & Gynecological Hospital. The name on the birth certificate is Barack Hussein Obama II.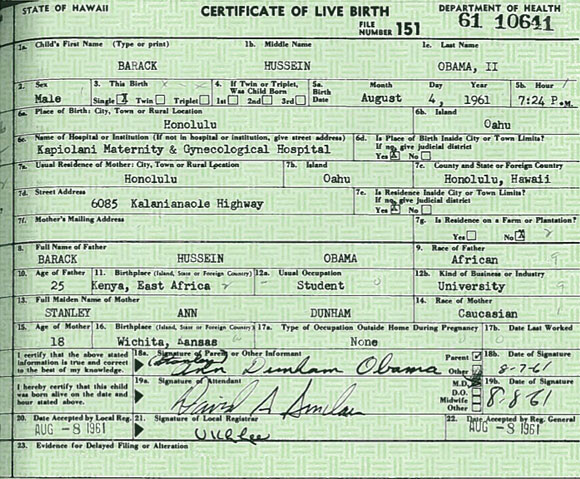 A d v e r t i s e m e n t
Obama's long form birth certificate –  http://www.whitehouse.gov/sites/default/files/rss_viewer/birth-certificate-long-form.pdf
Correspondence with the Hawaii State Department of Health can be seen here (PDF).
Stock up with Fresh Food that lasts with eFoodsDirect (AD)
This article was posted: Wednesday, April 27, 2011 at 6:13 am
---
---
Print this page.
---
---
Infowars.com Videos:
Comment on this article