Melissa Melton
PrisonPlanet.com
December 7, 2012

The Congressional Unmanned Systems Caucus has a mission — "to educate members of Congress and the public on the strategic, tactical, and scientific value of unmanned systems; actively support further development and acquisition of more systems, and to more effectively engage the civilian aviation community on unmanned system use and safety."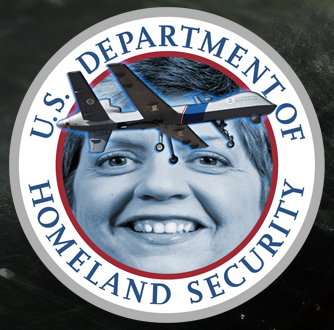 Apparently part of this mission is not only to push for expanded domestic drone use, but at least one of its members is leading the charge in supporting the idea that the Department of Homeland Security (DHS) should take control of drone oversight away from the Federal Aviation Administration (FAA) according to a recent investigation by Hearst Newspapers and the Center for Responsive Politics.
Though not widely reported on in the mainstream media, a recent New American interview noted just how influential the caucus is: "Caucus members are well placed to influence government spending and regulations." Established three years ago, the 60-member House of Representatives "drone caucus" claims to be the drone "industry's voice on Capitol Hill."
This congressional "industry voice" has reportedly received a combined total of nearly $8 million dollars in drone-related special interest campaign contributions.
The House drone caucus has been deemed responsible for helping to ensure drone legislation — including new provisions in the FAA Modernization and Reform Act — passed without a hitch to speed up domestic drone use despite the fact that constitutional and privacy concerns abound.
Caucus member Rep. Michael McCaul (TX), who is also chairman of the House Homeland Security subcommittee, scolded DHS earlier this year for not taking a more active role in drone oversight. "I am concerned DHS is reverting back to a pre-9/11 mindset, which the 9/11 Commission described as a lack of imagination in identifying threats and protecting the homeland," McCaul said at a subcommittee hearing back in May.
According to the National Journal, McCaul and others at that meeting appeared to support the position that DHS should oversee all domestic drones because the FAA is geared more toward safety and less toward national security risks, while the DHS is more familiar with drones and potential terrorist hijacking threats. This is even as broader nongovernment domestic drone use is coming to American skies by 2015, and the FAA has announced that drone operators currently have zero legal privacy obligations.
The claim that DHS — an organization already wielding unprecedented power — is more familiar with drones than the FAA might seem strange on the surface, but the notion could be argued considering the DHS just closed a $443 million-dollar deal to buy 14 additional predator drones, bringing their on-record fleet total to 24. These drones, which are the Pentagon's choice drones for air strikes it carries out in Afghanistan and Pakistan, are reportedly to be used by DHS to patrol the U.S. border with Mexico. DHS has also recently announced plans to conduct drone tests over the Fort Sill, Oklahoma Army base in the name of "public safety."
As witnessed in hurricanes Katrina and Sandy, DHS has a terrible track record of keeping anyone safe. In fact, all the power grabs and mass bullets buys would suggest the agency is more interested in its own safety than We the People's.
The House drone caucus is no longer unique either; the Senate has followed suit and started its own drone caucus as well.
With drone technology advancing to everything from the Pentagon creating nano hummingbird surveillance drones to drones straight out of a science fiction movie that can "fly and spy indefinitely," paid-for politicians cramming through legislation without proper consideration of our civil liberties could leave people at the mercy of the machines.
Infowars is announcing the first ever drone mob event on Saturday, December 8, 2012 at Zilker Park, 2100 Barton Springs Road, in Austin, Texas. Click here for more information.
This article was posted: Friday, December 7, 2012 at 3:07 pm
Tags: domestic news, drones, police state
---
---
Print this page.
---
---
Infowars.com Videos:
Comment on this article